Don't you just love
Le Noel
, Christmas time? I cannot say that I'm as devoutly Catholic or even as religious as I should be, but I do love the time of gift-giving. I love how everyone scurries around to stores, buying up cheesy reindeer sweaters and lots and lots of wrapping paper. I love drinking
un chocolat chaud
(hot chocolate) and listening to Christmas carols ("
Adeste Fideles
" is my favorite) while wrapping presents and decorating
le sapin Noel
(the Christmas tree). Admittedly, it's why I kept putting off the introduction of my blog.
Don't you just want to be in that picture right now (vote for it in ourdolls.net's holiday photo contest, if you want) ? I got an early start on decorating this year, mainly because my teacher didn't exactly want to study for her own exams, but I prefer saving my wrapping and tree-decorating for Christmas Eve; it just seems so magical. Watching a Christmas movie while wrapping presents, then dressing up to attend Midnight Mass? We haven't done the Midnight Mass thing for a couple of years, but I'd love to be able to do it this year. I know I just said that I'm not that religious, but mass on Christmas Eve? There's nothing better.
Another holiday favorite of mine is ice-skating. Okay, it's a new favorite. I've been getting to know one of FHSG's newest students, a girl named Nathalie Caroline Thibodeau. Nathalie's from Montréal, Québec, so she speaks French, too, with a very strong Canadian accent. She loves history and reading (mainly Anne of Green Gables), but also has a passion for wintry-type sports like figure skating. So, a couple of weekends ago, Nathalie was getting her skates on for practice and persuaded me to try it. I was like, "What? I don't even have any skates, let alone the skills to skate," but I decided to borrow Isabel's skates for the heck of it. And I still can't say I'm the best skater, but once I got on the ice, I really, really enjoyed myself. I didn't fall down much, at least.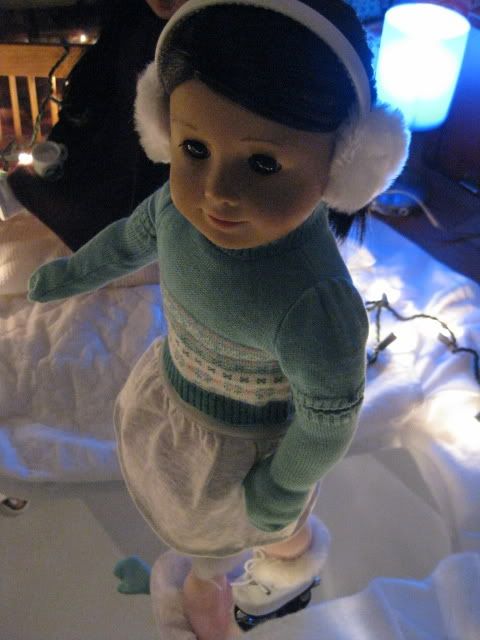 Nathalie's such a pro; she can spin, jump, do anything on ice!